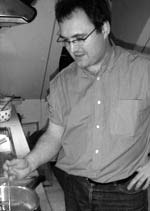 Ruuuudi!
"Well, if that isn't a Metal orgy!" - Jan on Beethoven's Egmont Ouverture.
"Sooo - isch mach heut ne Feuerzangenbowle - dat knallt! Ja, dat ist kein Kinderjetränk, hähähä... Heute wird jesoffen bis zur Jesichtsgrätsche. Und Corinna tanzt wie immer aufm Tisch. Und das schicken wir dannn Mama und Papa und zur Strafe muß Corinna auch noch habilitieren!" - Colognian dialect, defies translation
We will always remember Jan: he initiated Michael's soirées, he fought heroically against the bitchy first row of the University Orchestra's first violin section, and he is a cosmopolitan Colognian with a penchant for Guinness. At the moment Jan supplies textile services in Bad Hersfeld and apparently sponsors children's playgrounds in his spare time. Remember us, Jan - and come over for the next soirée, lazybones!